USL mulls selling 49% stake in Whyte and Mackay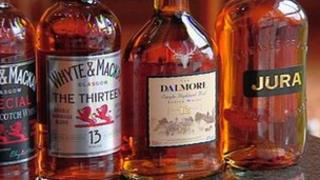 India-owned United Spirits Ltd (USL) has confirmed it is considering selling a 49% stake in its Glasgow-based subsidiary, Whyte and Mackay.
USL, which is part of billionaire Vijay Mallya's UB Group, said it was one of "several options available" to the firm to reduce its debt.
In a statement to the Bombay stock exchange, the company added no decision had yet been taken.
USL bought Whyte and Mackay in 2007 for £595m.
The Indian company has been struggling with debts of hundreds of millions of pounds.
The stock exchange move followed an India media report, which quoted UB Group chief financial officer Ravi Nedungadi as saying that there had been interest from "a number of private equity players" in Whyte and Mackay.
In the report, he denied any cash raised would used to pay off debt at Mr Mallya's troubled Kingfisher Airlines.
Loss-making Kingfisher recently had its bank account frozen for non-payment of taxes.
It has been talking to banks to secure funding so it can continue operating.