New deal boosts healthcare IT firm Craneware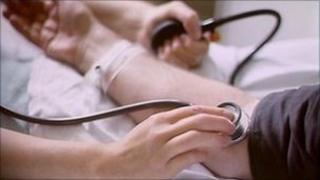 Shares in healthcare IT firm Craneware have climbed after the company reported a rise in revenues and a new partnership deal in the USA.
The Edinburgh firm saw revenues rise 13% to $18.8m for the first half of the financial year.
Craneware also said it had signed an agreement with an unnamed partner, which would bring in a minimum of $7.5m between now and June 2014.
By 12:30, its shares were up by more than 22%.
The company said the partner, who was not named for reasons of confidentiality, would use multi-year Craneware licenses in its work with federal and state healthcare facilities and projects.
Although revenues rose, pre-tax profits slipped slightly to $3.8m in the first half.
Craneware, which specialises in financial management software for the US healthcare market, said half-year results were affected by "short-term" factors, including the loss of a contract which hit earnings by $0.7m.
Chief executive Keith Neilson said: "The financial challenges presented by today's economy and healthcare reform mean it has never been more important for hospitals to increase efficiency and protect revenue in order to meet their objectives of providing increased levels of care to a growing hospital population.
"We believe our suite of software combined with our industry expertise uniquely positions us to help hospitals protect themselves against this changing market landscape, automating regulatory updates, increasing accuracy of pricing, charging and coding for procedures, supplies and pharmaceuticals and helping to manage the increasing number of government-led audits."
Founded in 1999, Craneware has offices in Atlanta, Boston, Nashville and Scottsdale, employing more than 200 staff.