Fall in Scottish mortgage lending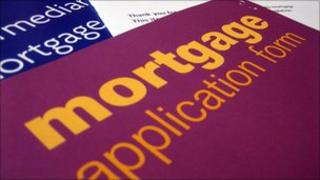 The number of mortgages taken out in Scotland last year fell by 7% but remortgaging rose sharply, according to data from mortgage lenders.
A total of 44,500 mortgages were secured in 2011, while remortgaging increased by 18% to 36,900 loans.
In the final quarter of last year, a total of 11,700 loans worth almost £1.4bn were taken out - down 8% by volume and value on the third quarter.
The UK as a whole fared slightly better than Scotland, with a 5% volume fall.
Data from the Council of Mortgage Lenders (CML) Scotland also showed the average first-time buyer in Scotland spent 11.1% of their income on mortgage interest payments in the last quarter of 2011 - lower than anywhere else in the UK.
The number of first-time buyers fell by 4% in the final quarter to 4,500. This figure was up from 4,200 in the fourth quarter of 2010.
Over 2011 as a whole, Scotland accounted for 9% of the total UK house purchase market and 10% of all UK remortgaging.
'Challenging year'
Jim Dunn, chair of CML Scotland, said: "Scotland, as well as the rest of the UK, continues to see a constrained mortgage market.
"However, it is encouraging to see positive signs, such as better affordability for first-time buyers and a decrease in average deposits for home movers, emerging.
"2012 will still be a challenging year but we hope to see the slight easing of constraints continuing throughout the year."
Mark Dyason, from independent mortgage broker Edinburgh Mortgage Advice, said the growth in the number of remortgages last year was down to competitive fixed and tracker rates coming on to the market.
He added: "We are already seeing rates tick upwards, in no small part due to the ongoing problems in the eurozone.
"Lenders are becoming more nervous by the day and this is feeding through into mortgage rates.
"Compared to this time last year, there is more demand for mortgages but the landscape remains fragmented."