Rangers chief Craig Whyte resigns from director posts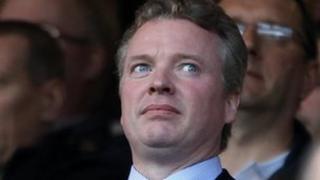 Rangers chairman Craig Whyte has resigned from three director posts in other companies so he can focus on the club's future.
Last week Mr Whyte stood down as board secretary of Bournemouth-based firm Pritchard Stockbrokers.
BBC Scotland understands he resigned to avoid "another distraction" from recent events surrounding Rangers.
Mr Whyte also resigned from two further directors' posts linked with Pritchard in recent days for the same reason.
The financier, who is the main shareholder in Rangers football club, stood down from Pritchard after it was barred from further trading on behalf of clients.
A source close to Mr Whyte said that this did not suggest any involvement in what went wrong at Pritchard's.
The connected companies, from which Mr Whyte has also resigned, are Merchant Corporate Recovery and Merchant Strategic Renewal.
Pritchard was ruled by the Financial Services Authority to have compromised the security of clients' funds, by trading with their money on its own account and by using their funds to pay its own costs.
A statement by Pritchard said it was required by the regulator to freeze all client funds, and it was "taking professional advice to secure the best interest of our clients".
The company could appeal against the FSA ruling.
Rangers were forced to call in administrators on Tuesday over an unpaid tax bill of £9m accrued since Mr Whyte's takeover in May.
Last week, the administrators revealed they did not have "visibility" of £24m which had come from a deal on future season ticket sales with the firm Ticketus.
They subsequently said they had new information on the takeover and running of Rangers which would help form a full picture of club finances.