Compensation award for former McCowan's workers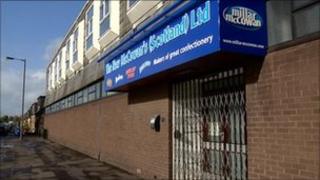 Former employees of collapsed toffee maker McCowan's have won more than £200,000 in compensation.
Trade union Usdaw said 103 former staff were awarded the cash by an employment tribunal after being made redundant when the firm folded last year.
Usdaw argued at the tribunal in Glasgow that McCowan's had failed in its legal obligation to consult with the union before making its members redundant.
The tribunal awarded each former employee compensation of 60 days' pay.
As McCowan's was in administration at the time of the redundancies, the compensation will be paid out of the National Insurance Fund via the government's Redundancy Payments Office.
New McCowans Ltd went into administration in September last year, and production at its factory in Stenhousemuir, near Falkirk, was immediately stopped and all workers sent home.
Administrators Grant Thornton announced the following month that the company had ceased trading and that the factory, which had been producing sweets since the 1920s, was to remain closed.
Usdaw subsequently made a claim on behalf of its members for a protective award.
Last month Usdaw announced it had won £67.8m compensation in similar circumstances for more than 24,000 former employees of Woolworths made redundant when the firm collapsed at the end of 2008.
Usdaw area organiser Alan McVie said: "Unfortunately, the majority of our members at McCowan's have still to find new jobs so they'll really welcome this compensation and I'm sure appreciate the effort Usdaw has made to secure it for them."
Before its closure, McCowan's produced Highland Toffee, the Wham bar, Pan Drops and Bonbons.
In December, snack firm Nisha Enterprises announced it would open a new confectionery plant in Livingston, West Lothian, after buying brands and machinery from the administrators of McCowan's.
The brands included Pan Drops.