Scottish unemployment rises by 16,000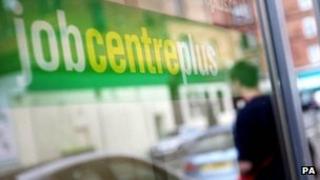 Unemployment in Scotland rose by 16,000 in the three months from October to December to reach 231,000, according to official figures.
The Scottish jobless rate now stands at 8.6% - above the UK average of 8.4%.
Employment in Scotland fell by 20,000 over the quarter to reach 2,458,000.
Data from the Office for National Statistics also showed the Scottish claimant count fall by 200 to 141,200 in January - 1,500 up on the same month last year.
Scottish Finance Secretary John Swinney said it was clear from the figures that "further sustained action" was needed to support Scotland's economic recovery.
'Budget for growth'
He said: "The Westminster government has failed to come forward with the stimulus of increased capital spending to get growth and confidence back into the UK economy.
"That is why the Scottish government delivered a budget for growth, passed last week by the Scottish Parliament, which boosts public sector capital investment, takes action to tackle unemployment and in particular youth unemployment, and enhances economic security."
Mr Swinney added: "The Scottish government is using every lever currently available to us to secure new investment and create and safeguard jobs, in the face of severe cuts from Westminster."
'Challenges ahead'
Scotland Office Minister David Mundell described the figures as "disappointing" and said they showed there were "many challenges ahead" for the Scottish and UK governments.
The Conservative MP said: "Each number we see today is not merely a statistic - it is an individual or family directly affected by unemployment.
"That is why we are determined to do all we can to create the right conditions for the private sector to create long-term, sustainable jobs."
Mr Mundell added: "The increased international uncertainty makes it all the more critical for the whole of the UK economy to maintain market confidence."
Scottish Labour leader Johann Lamont said Scotland now had "a national unemployment crisis" that was "fast spiralling out of control".
She added: "The figures speak for themselves - a third of all jobs being lost in the UK are in Scotland, nearly 400 women are losing their job every day and youth unemployment is now more than 100,000.
"On the day that unemployment in Scotland crept ever nearer the quarter-of-a-million mark, Alex Salmond was making speeches about separation in London - that tells us everything we need to know about his priorities."
Business 'pressures'
Scottish Chambers of Commerce chief executive Liz Cameron said the latest rise in unemployment highlighted the continuing pressures facing Scottish business against a background of continuing economic uncertainty.
She added: "Our own survey evidence suggests that the final quarter of 2011 was an exceptionally difficult one for many businesses and a general lack of optimism may hinder significant employment growth in the early part of 2012.
"That is why it is essential for the Scottish and UK governments to put the private sector first and to recognise that it is only business that can reverse the current trend of rising unemployment, as more staff are lost from the public sector."