Cupid in dating brands lease deal with Brightsolid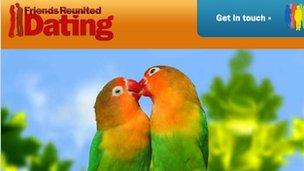 Online dating firm Cupid is to take on several brands under a leasing deal with Dundee-based Friends Reunited owner Brightsolid.
Under the 10-year deal, Cupid will operate Friends Reunited Dating, Friends Over Fifty and Swoon.
Brightsolid will retain ownership of their domain names, trade marks and intellectual property rights (IPR).
Brightsolid said this would allow it to concentrate on its core activities in online publishing and technology.
Brightsolid chief executive Chris van der Kuyl said: "Our acquisition of Friends Reunited in April 2010 helped the company to achieve significant growth last year, with overall sales up by 75%.
"It is vital that we continue to grow all of our core businesses in online publishing and online technology.
"However, it is clear that Cupid has real strengths in the online dating sector, so it makes absolute sense to enter this agreement with them for our dating business.
"The deal maximises the potential of the online dating services, whilst allowing Brightsolid to concentrate on our core activities."
In October, Edinburgh-based Cupid was named as Scotland's fastest-growing technology business in a survey by accountants Deloitte.
Cupid has grown by 1,317% over the past five years, driven by an aggressive international expansion strategy.
The dating firm is now trading in 39 countries around the world and 53% of revenues are generated outside the UK.
Related Internet Links
The BBC is not responsible for the content of external sites.