Waste firm Viridor invests £6m in Midlothian facility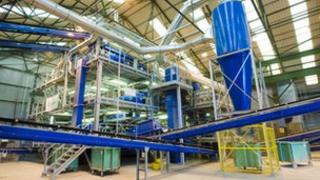 Waste specialist Viridor is to invest £6m in new technology at its glass recycling facility in Midlothian.
The company said its Bonnyrigg site would be only one of three facilities worldwide to feature its "next generation" recycling equipment.
The company said the move would protect the existing 50 jobs on site and keep the company in Bonnyrigg.
The new technology will allow Viridor to recycle up to 140,000 tonnes of glass a year at the plant.
Installation is expected to start in June and take three months to complete.
The new equipment will allow the plant to colour sort mixed glass for a high quality recyclate.
Bonnyrigg, which is one of three glass recycling plants operated by Viridor in the UK, recycles container and plate glass from across 18 Scottish local authority areas and supplies a range of sectors, including insulation and aggregate.
Viridor's Scottish regional director, Colin Paterson, said: "This latest investment will not only bring world-leading infrastructure to Scotland, but will place us at the forefront of European glass recycling capabilities.
"Glass recycling is a real Scottish success story and, in addition to meaning more high quality product is available for remanufacture in Scotland, supporting everything from Irn Bru to Scotch whisky, this investment will enable councils and companies to enhance sustainability."