More cash pledged for ferry fare rebate scheme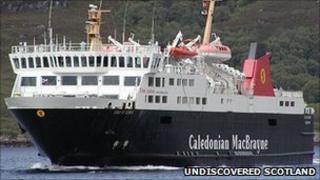 The Scottish government is to give an extra £2.5m next year to a scheme designed to bring down the cost of ferry travel.
The cash will support new transitional arrangements for all hauliers and businesses using certain ferry routes.
It follows talks between ministers and hauliers over plans to remove the road equivalent tariff (RET) from freight.
Campaigners have argued its removal would lead to a huge increase in travel costs from April.
The Scottish government said the new arrangements would mean no haulier would see fare rises of more than 50% in any one year.
They will apply to all commercial vehicles, regardless of size, using routes to the Western Isles, Coll and Tiree.
RET sets fares to the equivalent cost for travelling distances by road.
A pilot has been running in the Western Isles, Coll and Tiree since October 2008 and is due to end in spring 2012.
Significant discounts
The latest £2.5m is in addition to extra help announced last week for all vehicles up to six metres in length.
Ministers said it brought the total investment for next year to £5.3m, following the decision to roll out RET to all CalMac routes in Scotland for cars and passengers.
Members of the Outer Hebrides Transport Group - made up of hauliers and business people - recently met with Transport Minister Keith Brown over ferry fares for large lorries.
The meeting was arranged after hauliers said they faced rises of up to 172% on the cost of ferry travel from April.
Announcing the latest funding, Mr Brown said: "I had a constructive meeting with hauliers last week and one particular concern raised was that previous discount schemes had benefited some hauliers more than others.
"By capping the rises, all hauliers on any given route will pay the same.
"Before RET was introduced some large hauliers were able to claim rebates of a maximum of just 15% on their fares.
"We believe this new transitional arrangement will better support all hauliers with significant discounts available."