Pritchard Stockbrokers banned from trading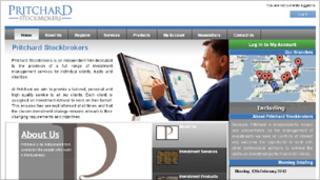 A stockbroking company which has Rangers owner Craig Whyte as board secretary has been banned from further trading by the financial regulator.
The Financial Services Authority has ruled that Pritchard Stockbrokers had used client money for its own expenses, "thereby putting client money at risk".
That means it "failed to comply with the proper standards and failed to act with integrity".
Pritchard has a right to appeal against the ruling.
The FSA's supervisory notice, issued on Friday, said that the firm should cease any regulated activities, except to close out transactions which had already been started.
It also froze Pritchard's assets, and instructed it to tell all its clients that it had been barred for working for them.
The regulator listed the reasons for action against the Bournemouth-based company as failing to arrange adequate protection for clients' assets when it was responsible for them.
It allowed client money to be used on Pritchard's own account and not that of clients.
In failing to meet the threshhold conditions set out under FSA rules, it said it was "not satisfied that Pritchard is fit and proper" to continue carrying out the investment role it has had since 2001.
In the most recent published accounts of Pritchard Stockbrokers, on 30 June 2011, the company had £17.1m of funds held on behalf of clients.
There was a further £8.8m held on behalf of Merchant House Group, which has a 10% stake in the stockbroker.
While Mr Whyte is company secretary, his main investment vehicle, Liberty Capital, invested £250,000 in Pritchard. That is earning a 10% interest rate, repayable in 2015.