Weir Group continues buying spree with Ludowici bid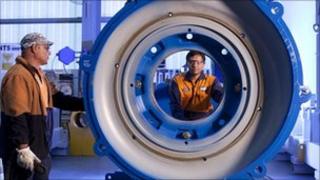 Engineering firm Weir Group has continued its acquisition trail with a £200m indicative bid for an Australian mining company.
The Glasgow-based group said the bid for Ludowici was subject to due diligence and may or may not lead to a full offer.
Ludowici, based in Brisbane, makes equipment for the mining industry.
It is already the subject of takeover interest from the Danish engineering giant FLSmidth.
In a statement to the stock exchange, Weir said that its offer for the Australian company was 10% above FLSmidth's bid.
Although Ludowici's main market is in Australia, it also operates in South Africa, South America, India and China and employs 1,000 people worldwide.
Weir chief executive Keith Cochrane said: "Ludowici is a well-known and respected brand in the coal processing sector.
"The potential acquisition would extend Weir's offering in minerals processing and expand our exposure to the attractive and fast-growing coal sector, where Weir is relatively unrepresented.
"As a part of the global Weir Minerals business, we would look to accelerate the growth of Ludowici, consistent with Weir's 2010 acquisition of Linatex."
The potential deal with Ludowici is the latest in a long line of acquisitions for the group.
In 2010 it bought Malaysian mining services group Linatex.
Last summer it took a majority stake in a South Korean valves business, and later in 2011 it bought America's Seaboard Holdings for £430m.