Wolfson Electronics forecasts higher revenues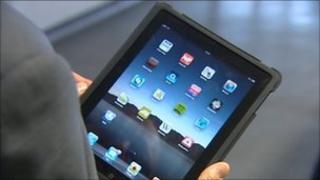 Chip maker Wolfson Microelectronics has forecast a "step-up" in revenues this year, after reporting flat growth in 2011.
Wolfson, which makes chips for smartphones and tablet computers, said "favourable technology trends" were helping to improve the fundamentals of the business.
The Edinburgh-based firm described 2011 as a challenging year.
It reported strong first-half growth, followed by a weak second half.
Revenues fell slightly on 2010 to reach $156.9m (£99.2m) for the full year.
Wolfson said there had been strong revenue growth in mobile phones (up 33%), gaming (up 25%) and PC/tablet computers (up 90%), but this had been offset by considerably weaker markets in home audio, digital still cameras and portable navigation devices.
Mobile audio hub sales grew strongly in 2011 and were expected to become an increasing proportion of the company's business during 2012.
The chip maker said it was well positioned to achieve a step-up in revenues during 2012 and return to sustainable growth and underlying profitability.
Commenting on the results, Wolfson chief executive Mike Hickey said: "Last year was characterised by strong first half growth, followed by a weak second half, resulting in flat year-on-year revenues for 2011.
"We delivered a record year for design-ins, driven in part by establishing technology leadership over our competitors in the fast growing smartphone and tablet markets."