Unravelling Rangers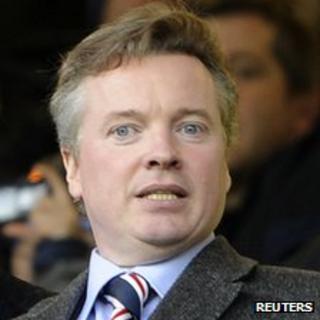 We'd be forgiven for feeling a bit confused about the state of Rangers Football Club.
The chairman says there's no crisis. The manager says there is.
The chairman says his former star striker wanted to leave. Said striker says he didn't.
Last time I wrote about it, Rangers was running away with the SPL title. Now, it's not.
And I should warn you that I'm not ideally placed to clear up the confusion. That's partly because Rangers refuses to co-operate with the BBC these days.
And it's partly because the club's management has twice missed the deadline for filing accounts - the real one, which resulted in its share trading being suspended, and then its own intention to clear up the accounts by the end of January.
That leaves us all groping in the thick fog that envelops Ibrox Park as I type.
Awe and disbelief
But it might help to separate out some of the strands of what seems to be going on. One is evident from the interviews Craig Whyte has been giving to other media outlets.
He's putting the blame on the previous management. Despite an amicable handover of £1 by Mr Whyte to Sir David Murray in exchange for 85% of the shares, the new chairman is trashing his predecessor's reputation.
This doesn't come as a big surprise to Ibrox-watchers, who wondered in awe, amazement and occasional disbelief at the amounts of cash the club was splashing on world-class players down the years.
Bringing revenues and costs back into kilter was going to be a challenge for any new owner. It's true across football, but it's most true for a club with a Bollinger lifestyle but a Tennent's-sized bank account.
Cracking Europe
And Craig Whyte seems to have alighted on the key problem, shared with arch-rivals at Parkhead, that clubs which spend to compete in Europe, but which have unpredictably good and bad seasons in European competition, have huge swings of income, and struggle to keep the books in line.
Europe, as is well known, is getting a tougher nut to crack, partly through tightening access to the competitions for the Old Firm, and partly because falling revenues mean a poorer class of player and less chance of qualification.
That helps explain why the club is running, by Craig Whyte's admission, a recurring £10m deficit. But that doesn't explain why it was necessary to commit £24m in expected season tickets over four years, as yet unsold, to a financing company.
That's on top of the stream of earnings from selling Ibrox's catering rights which have been sold, apparently in perpetuity, to another finance house.
Craig Whyte says he financed the purchase of £18m of debt from Lloyds Banking Group last May from his own resources, and the sale of that season ticket revenue stream is unconnected.
But if so, why the need to hand over that stream of financing, hobbling the club's potential for using vital income to buy the players it needs? He's not saying.
What also emerges from the £10m recurring deficit is that the club's in big problems whether or not it wins its tax tribunal.
That was the most toxic part of the David Murray legacy, resulting from paying his top players through an offshore trust, and it's been threatening to sink the club with a £49m bill.
Craig Whyte has done nothing to dampen expectations of the club going into administration if HM Revenue and Customs wins the case.
But even if Rangers wins the case, that recurring £10m hole means it's still got problems big enough to render it insolvent.
So to recap, Craig Whyte is pinning blame on his predecessors, and justifiably so.
His financing of the club is opaque and leaves fans understandably concerned about where their season ticket money is going. And even if it wins its tax tribunal, Rangers is not out the woods.
Devoted fans
The final strand is Craig Whyte's role in charge of the club.
Set aside his justification for what he's doing, the blame pinned on others, and the lack of clarity over the club's finances: there's also the question of whether he's the right guy to be in charge of one of Scotland's biggest brands, and an institution to which many owe lifelong devotion.
The BBC revealed last October that he had been disqualified as a company director in 2000, and for an unusually lengthy seven years' sentence.
The documentary brought a threat of legal action. No writ yet, and he subsequently had to admit to the Plus stock exchange that he had indeed been disqualified - something he should have done when he took over the club last May.
Now, BBC Scotland's investigation team has evidence of the reasons for his disqualification.
Craig Whyte will seek to portray this as an attack on Rangers.
But to fans who have been following the implications of possible administration for the club, the chairman's past behaviour will do nothing to reassure them that his interests are aligned with those of the club.