Scottish firms 'locked out' from procurement contracts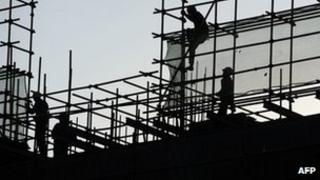 Scotland is losing out on contracts worth hundreds of millions of pounds because Scottish firms are "locked out" of major building and infrastructure projects, according to a think-tank.
A report by The Jimmy Reid Foundation claimed the current public procurement system seemed to "load the dice in favour of big corporations".
It argued contracts made it hard for Scotland's smaller firms to compete.
It added the Scottish economy would be boosted if the process was reformed.
The report was released as Infrastructure Secretary Alex Neil outlined his intention to further reform public procurement to improve Scottish businesses' access to contract opportunities.
The Scottish government has pointed out that three-quarters of all contract awards recorded on the web portal Public Contracts Scotland go to small and medium-sized enterprises, but Mr Neil said there was still room for "significant further improvement" of the procurement process.
In the foundation report, statisticians and economists Jim and Margaret Cuthbert argued contracts were "designed in the interests of big business, making it hard for Scotland's small and medium-sized companies".
The report added: "The overall effect of current practices seems to load the dice in favour of big corporations, often at the expense of small businesses but also regularly at the expense of the wider public interest."
It continued: "If contracts can be designed in a way that gives Scottish businesses the best chance of winning them, hundreds of millions of pounds currently leaking out of the Scottish economy could be retained, a potentially massive sustained investment."
The report's key recommendations included a call for contracts to be split into small blocks to give small and medium-sized companies a chance of competing.
It also suggested exploiting exemptions from EU rules to assist the local economy and social well-being in areas like research and development and skills training.
Mr Neil said he had spent a lot of time in recent months engaging with businesses and others with concerns about public procurement.
He said: "The Scottish government has done a great deal to improve the way the procurement system operates in Scotland, but clearly there is still room for significant further improvement, both in relation to efficiency and the extent to which Scottish businesses are able to access contract opportunities. "
Mr Neil said ministers had already announced their intention to introduce a sustainable procurement bill during the life of the current parliament.
Business 'friendly'
He added: "Having listened to business concerns about procurement, I can announce that the bill will also seek to ensure that all public bodies in Scotland adopt transparent, streamlined and standardised procurement processes that are friendly to Scottish businesses."
Scottish Labour leader Johann Lamont welcomed the Jimmy Reid Foundation report.
She said: "We must radically rethink how Scotland's public sector uses its massive purchasing power to support local jobs and communities.
"With over 200 people a day losing their job, the Scottish government must do everything it can to trigger economic growth.
"Many of these recommendations should have happened years ago."
Scottish Building Federation chief executive Michael Levack said the foundation report came as little surprise to the construction sector.
He added: "We have been raising concerns that the public tendering system is unfit for purpose for some considerable time now. Such is the complexity of tendering for public projects that even some of Scotland's larger national contractors balk at it."
Andy Willox, from the Federation of Small Businesses in Scotland, said his organisation was "right behind any moves" to use the Scottish public sector's buying power to benefit local economies.