Scots retail sales grow by 3.5%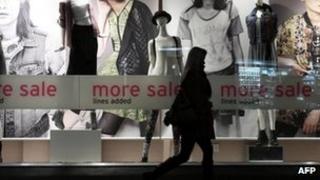 The value of retail sales in Scotland grew by 3.5% in 2011, slightly faster than the UK rate of 3.4%.
According to official figures the volume of sales grew by 0.7% over the year compared with a 0.3% increase in the rest of the UK.
In the final three months of 2011, the value of sales rose by 0.8% and the volume increased by 0.7%.
The Scottish government said the figures underlined the measures it had taken to enhance consumer confidence.
Finance Secretary John Swinney said: "The Scottish sector is outperforming Great Britain according to the annual statistics, and this underlines the importance of the measures we are taking to enhance economic and consumer confidence in the face of difficult trading conditions."
He added: "Scotland offers businesses the most generous package of reliefs anywhere in the UK, worth more than £500m pounds in this financial year.
"Two out of every five commercial premises in Scotland now benefit from tax breaks through the Small Business Bonus Scheme, which delivers no rates or low rates for Scotland's small business sector."