House sales in Scotland increase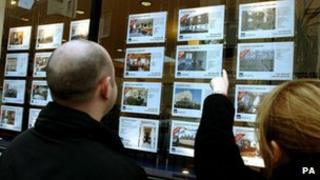 The number of houses sold in Scotland rose slightly in the last quarter of 2011 despite a fall in sales of flats, according to official figures.
Registers of Scotland said detached homes saw the biggest increase in sales, rising by 4.5% year-on-year.
However, sales of flats dropped by 6.3% - meaning that the overall volume of sales in Scotland rose by 0.2%.
The average price for domestic properties dropped by 0.5%.
Scotland's major cities saw an increase in average prices, except for Glasgow, which dropped by 0.4%.
In the local authority areas around Glasgow, Inverclyde saw the biggest fall in prices, with a drop of 12% compared to 2010. The average price there was £104,862.
East and West Dunbartonshire showed significant increases in the number of properties changing hands, with both experiencing a rise of more than 28%.
Edinburgh continued to hold the highest average value for domestic properties at £226,000, up 4.5% on the same period in 2010.
Kenny Crawford, from Registers of Scotland, said: "The strength of sales in the house market is having a levelling effect on the market as a whole and this is keeping the changes to Scotland's property averages at under 1%."
Registers of Scotland is the government department responsible for compiling and maintaining registers relating to property and other legal documents in Scotland.