Edinburgh bids for new Green Bank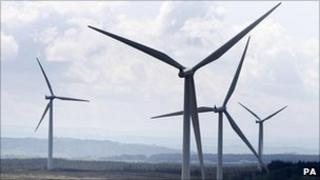 Edinburgh has submitted its formal bid to host the new Green Investment Bank (GIB).
The capital is one of 19 cities which will be considered by the UK government for the location of the bank.
The GIB is being set up with £3bn of public money to help firms finance early-stage renewable energy schemes.
Edinburgh has the backing of some big Scottish investment funds, including Standard Life Investments, Martin Currie and Aberdeen Asset Management.
The alliance of Scotland's finance sector, power and renewable energy firms and universities claims Edinburgh has the required financial, energy and research expertise and the GIB would lack impact and openness if it were located in London.
The bank would use the money markets in a similar fashion to regular banks but would use the profits to invest in low-carbon energy resources.
Its start-up capital is intended to match £15bn of private sector funding over the next four years. After 2016, it should have powers to borrow more extensively from the private money markets.
Speaking on behalf of the group, Owen Kelly, chief executive of Scottish Financial Enterprise, said: "An impressive broad range of interests from the worlds of industry, government and politics have been working together to develop Edinburgh's proposal to be the home for the new Green Investment Bank."
Mr Kelly added: "We have put together a very compelling argument. As the UK's most complete financial services centre outside of London, Edinburgh has all the necessary skills and talent that the Green Investment Bank will require.
"When you combine that with the vast renewable and low carbon expertise that exists both in and around Edinburgh area as well as its proximity to key developments across Scotland the North of England, we believe that Edinburgh is best placed to deliver the UK government's low carbon ambitions."
A decision on the bank's location will be made by the end of February.