UK exports action plan 'good for Scotland'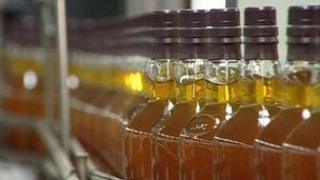 A UK government-backed drive to boost exports of British food and drink to high-growth markets like India and China will benefit Scotland, according to Scottish Secretary Michael Moore.
The Department for Environment Food and Rural Affairs (Defra) aims to support exporters and champion UK food abroad.
Mr Moore said Defra's exports action plan would help boost the economy.
An official survey this week estimated Scottish food and drink exports were worth £4bn in 2010.
The action plan, which involved input from the Scotch Whisky Association, includes showcasing food and drink at the London Olympics 2012 to attract international buyers.
It also aims to make food export paperwork simpler and easier to access, and stage regional roadshows and business-to-business networking events to share best practice and encourage companies to export.
Other goals include persuading some countries to remove bans on British meat, such as beef and lamb to China.
Meat promotion
Earlier this month, the Scottish government announced it was giving an extra £300,000 to promote the export of Scottish beef and lamb in Europe.
Scottish ministers also recently unveiled a new six-year food and drink export strategy for the Asia Pacific region, focusing on key areas where Scotland already has a global competitive advantage such as whisky, seafood and red meat.
Mr Moore, who recently led a Scottish trade mission to Brazil, said: "Scotland's food and drink is known across the world for its quality and this UK government initiative will help support our companies as they further develop their business with the rest of the world.
"We have been working hard to secure further footholds in emerging markets, including securing geographical indication protection for Scotch whisky.
"This action plan will help exporters make the most of the huge global opportunities available to Scottish companies and will, in turn, help create and secure jobs and boost our economy."