Clydesdale Bank to receive another £130m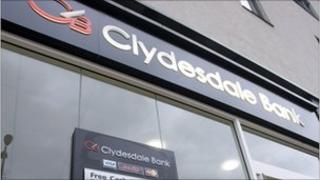 National Australia Bank (NAB) is to pump another £130m into its Glasgow-based subsidiary, Clydesdale Bank.
NAB said the special contribution would be made to reduce Clydesdale's pension deficit liability.
Two weeks ago, Clydesdale - which includes Yorkshire Bank - was allocated £400m of extra capital by its parent company.
That move was to boost its reserves as a buffer against a potential downturn in the UK economy.
In a joint statement, NAB and Clydesdale said they had concluded 60-day collective consultation periods with members of the Yorkshire and Clydesdale defined benefit pension scheme.
It confirmed all NAB group companies, except Clydesdale, would cease to be participating employers in the scheme.
Clydesdale will accept the responsibility for meeting the obligations of the previous employers.
The statement added: "NAB Ltd will separately make a special contribution of £130m to the scheme which will be expensed in the income statement of NAB Ltd.
"This special contribution will reduce the pension deficit liability of CB (Clydesdale Bank) plc and the benefit will be reflected in CB plc's financial statements.
"As a result, there will be only a minor impact on the consolidated NAB group financial statements arising from the special contribution."