Irn Bru maker AG Barr reports strong sales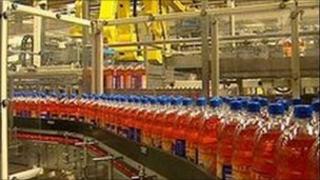 Irn Bru maker AG Barr has reported strong sales of both its core and exotic brands as it looks to expand its production capacity into the south of Britain.
In a trading update, the Cumbernauld-based company said it expected 6% year-on-year growth for the financial year.
Barr said all of its core brands had grown this year, while exotic brands Rubicon and LA had performed strongly.
It expects overall margins to be in line with expectations.
This was despite continuing volatility in a number of key input costs such as sugar, packaging materials and energy.
Barr said it was continuing to develop its investment plans for a new production site with canning capacity in the south of the UK, but has yet to specify its precise location.
The firm expects the additional facility to come on stream in 2012-13.
In its trading update, Barr said its performance in the final quarter reflected "well executed sales plans, a less demanding comparative trading position and excellent consumer demand behind our core brands".
The firm said it expected see continued pressure on consumers' disposable incomes and further input cost inflation, as well as an increasingly competitive market place over the course of the next financial year.
It added: "However, we do see sales growth opportunities across our core brands as we continue to drive our product distribution and innovation activities.
"We will maintain our focus on costs throughout our total operation to ensure our margins are protected."