Scottish house moving costs outstrip prices, says survey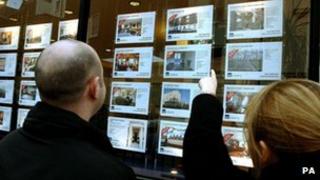 The cost of moving home in Scotland has risen faster than house prices over the past decade, according to new research.
A Bank of Scotland survey suggested the average expenses associated with moving rose by 69% from £4,125 in 2001 to £6,972 in 2011.
The percentage figure was greater than the 64% rise in house prices over the same period.
The survey indicated the cost of moving home was now at its highest level since the peak of the housing market in 2007.
However, the average cost in Scotland was 22% lower than the UK average of £8,922.
House moving expenses north of the border rose by 2.3% (£158) over the past year, with London recording the UK's biggest increase (6.3%). Northern Ireland recorded the largest fall (27%), reflecting the significant decline in house prices there.
In monetary terms, estate agency fees (up £917), mortgage fees (up £770) and stamp duty (up £509) together accounted for more than three-quarters of the overall rise in moving costs.
Biggest expenses
Estate agents' fees remained the largest single expense in moving home, accounting for 34% of total costs, followed by stamp duty (19%).
Mortgage arrangement fees have more than trebled over the past decade, reflecting the changing structure of mortgage products over the period.
Despite this increase, mortgage arrangement fees currently account for just 15% of the typical home moving bill.
Bank of Scotland housing economist Nitesh Patel said: "With the costs associated with moving home in Scotland rising substantially over the past decade, the task for those looking to move has undoubtedly become more challenging.
"The significant rise in home moving costs is particularly concerning at a time when demand in the housing market is weak."