Cairn Energy withdraws special payments for chairman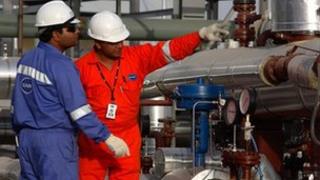 Cairn Energy has withdrawn a proposal to grant £3.5m of special payments to its chairman, Sir Bill Gammell.
The money was a reward for the former chief executive pulling off a multi-billion pound sale of much of its Indian subsidiary.
As a result, shareholders will next week vote to have £2.2bn of profits distributed to them.
The withdrawal of the special payment came after pressure from shareholder groups.
They will view the decision by the Edinburgh-based oil exploration company, not to award Sir Bill, the company's founder, the cash, as a victory at a time when the UK government is seeking to crack down on excessive executive pay.
On Monday UK Business Secretary Vince Cable unveiled plans designed to curb executive pay.
Shareholders are to be given more powers to block excessive pay packages and companies will be encouraged to increase diversity on their boards.
Cairn Energy will give its shareholders more than £2bn next month after it sold of most of its stake in Rajasthan, India, where it successfully struck oil.
The company is currently considering selling its remaining 21.8% stake in the business.
On Monday the oil explorer announced it had sold off a 30% stake in one of its Greenland exploration licences to Norwegian group Statoil.
It is part of Cairn's plan to bring in a partner in to share the costs of exploration in the Arctic.