Funding boost for Scotch beef and Scotch lamb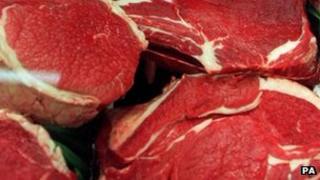 The Scottish government is giving an extra £300,000 to promote the export of Scottish beef and lamb in Europe.
The additional funding will be used by Quality Meat Scotland (QMS) to boost growth in key European markets.
It includes support for new export market managers and trade development advisers for France, Belgium, the Netherlands and Luxemburg.
The move came as a study suggested Scotch Beef was the biggest selling Scots food and drink brand in the UK.
Rural Affairs Secretary Richard Lochhead, who announced the extra funding at the QMS marketing conference in South Queensferry, said: "The Scotch label is recognised the world over as a high quality, premium brand.
"This reputation puts us in a great position to maximise our exports - particularly in the key European market, which accounts for 90% of Scotland's red meat exports.
"The current economic landscape in Europe is certainly a very challenging market to operate in. However it's very encouraging that despite these difficulties our beef and lamb export sales grew during 2011 to around £100m."
'Biggest seller'
The funding announcement came as research suggested Scotch Beef was the biggest selling Scottish food and drink brand in Great Britain.
Market research company Kantar Worldpanel indicated British sales now totalled more than £247m.
QMS chairman Jim McLaren said: "This is a great achievement by our industry and underlines the importance of Scotch Beef, Scotch Lamb and Specially Selected Pork production to the Scottish economy and to Scotland's reputation as a land of food and drink.
"Scotch Beef is an iconic brand and one that even in these financially gloomy times, people still desire and are willing to cut other costs to continue eating."