Offshore drilling in UK waters 'falls by a third'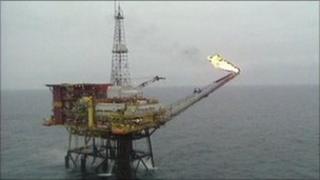 Offshore drilling activity in UK waters fell by a third last year to its lowest level since 2003, a report has found.
Deloitte said 49 new wells were drilled in the UK Continental Shelf (UKCS) in 2011, compared with 74 in 2010.
The firm's Petroleum Services Group said the figures were unexpected in a year when the average oil price had remained high.
The current economic climate and delays in rig availability were said to be among possible reasons.
However, it is claimed there has been a continued appetite for investment in the UK with a larger number of significant development projects granted approval during 2011.
Graham Sadler, managing director of Deloitte's Petroleum Services Group, said: "The low activity on the UKCS is not what we would normally expect in a year when the average monthly Brent oil price has remained well above $100 USD per barrel, however, the downward trend is the result of a number of factors rather than any one single issue.
"While the Supplementary Charge Tax imposed early in 2011, and further alterations to the fiscal regime, may have affected business confidence, given the lead time required for planning and drilling of exploration and appraisal wells, the full effect of this tax change may not be evident until the end of 2012 and beyond.
"It is more likely that a delayed reaction to the 2008 recession, current economic and market factors, delays affecting rig availability and the maturity of the UKCS are the key contributing factors."