Energy firm Cairn may sell Indian stake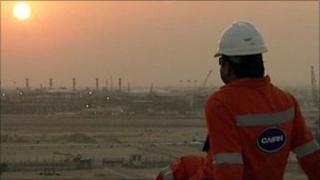 Cairn Energy, the Edinburgh-based oil explorer, is considering a sale of its remaining stake in an Indian company.
The business was spun out after its giant oil find in Rajasthan and the remaining 22% stake is valued at nearly £1.5bn.
The move came as the second largest field, Bhagyam, was expected to get the green light "imminently" from the Indian government.
It is likely to produce 40,000 barrels a day.
A sale of at least part of the remaining stake in the Rajasthan business could mean a further return to shareholders on top of the £2.2bn being returned to them next month - though company sources said that was unlikely while there were other investment options.
The huge pay-out, with the possibility of more, marks a rapid shrinking of Cairn Energy, to a position from which it aims to achieve rapid growth from oil exploration elsewhere.
But it still has a cash fund of nearly £800m. The company refused to comment on speculation that it is eyeing drilling prospects around the Falkland Islands.
But it has said it is looking for oil in the Mediterranean off Spain and Albania, and it is bidding for licences to drill in Lebanese waters.
Cairn Energy also has licences to explore in Nepal, which has good geological characteristics, but political instability in the Himalayan kingdom has meant drilling is on hold.
The biggest project for Cairn is under waters off the west of Greenland, where it is in the lead on exploration, with eight wells sunk.
It has faced criticism from environment campaigners for the risk to marine life and the coastline if there is an oil spill.
After drilling during 2010 and 2011, Cairn is now seeking a larger partner to share the financial risk. But the company is not going to do any Greenland drilling during 2012.
Mike Watts, the exploration director and deputy chief executive, told BBC Scotland the company's approach to its remaining large stake in the Indian operations is a source of flexibility.
He said: "We've retained a 22% stake because it has a natural growth story. For several years to come, it will be increasing its production shareholding.
"We have a minority shareholding, but it gives us future flexibility in terms of cash funding."
Key milestone
Simon Thomson, who stepped up to the chief executive role last July, said during a visit to the Rajasthan assets that the sell-off of Cairn Energy's stake in Cairn India has been part of a "persistent strategy of realising value, slimming the company and beginning to grow again.
"We are fanatically focussed on what we're doing," he added.
He said the Greenland strategy is a long-term one, despite no significant finds so far, as the oil majors are following Cairn into the area, and it has information from its drilling that should prove attractive to them.
He explained: "We've got the biggest acreage data, that nobody else has, and that has value in the industry".
Reviewing progress in India, the company's leadership team sees the start of oil flowing at Bhagyam as another key milestone.
The oil field is less than 20 miles from the giant Mangala field. From there, 125,000 barrels are being pumped each day to oil refineries near the Indian coast, and its vast production plant will handle the Bhagyam field and another 23 fields yet to have production put in place.
The Mangala field started production in 2009, and total production from it could go up to at least 240,000 barrels.
Cairn's oil finds in Rajasthan are seen as vital for India's energy needs, representing 30% of India's oil production, and around an eighth of its current needs.
However, Cairn Energy had a long delay in its sale of the controlling stake of Cairn India to Vedanta, an Indian metals group.
Indian government approval was delayed for 16 months, with conditions imposed that reduced the value to Cairn by more than £200m.