'Worst' December for Scottish shops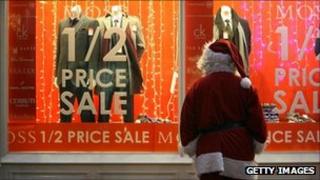 Scottish shopkeepers have reported their worst December since at least 1999, according to the Scottish Retail Consortium (SRC).
Although sales last month were up by 1.6% compared with the previous year, it was the weakest December since the survey began in 1999.
Like-for-like sales, which discounts new store openings, were up 0.4%.
Scottish shops performed worse than the rest of the UK where total sales grew by 4.1% last month.
Although Scottish sales showed some growth, the consortium said the true picture was much worse because the latest figures are compared to December 2010 when heavy snow affected many shops.
David McCorquodale, head of retail in Scotland, KPMG, said: "A slight uplift of 0.4% appears to have brought some cheer at the end of what has been a wretched year for retailers.
"However, we should not forget that for two weeks of December last year the country was under a hefty blanket of snow and, with Christmas falling on a Saturday that year, there wasn't a full week's trading during that critical period. As a result this slight uplift in like-for-like sales is illusory."
He added: "Christmas this year came at a real cost to retailers as the discounting was deep, impacting margins, and opening hours were longer, costing more in wages. Several retailers have not made it into the New Year and more shop closures are anticipated in the coming months."
'Confidence falling'
Ayrshire-based d2 jeans recently collapsed with the loss of 200 jobs and many others are expected to follow suit.
This latest survey found that non-food sales strengthened, led by clothing and footwear, however there was a lot of heavy discounting to achieve sales.
The consortium said that consumer confidence was lower in Scotland than the rest of the UK and this uncertainty over jobs and incomes led to consumers only buying essentials or replacing goods.
Ian Shearer, Scottish Retail Consortium director, said: "Consumer confidence is lower and falling faster in Scotland than at UK level as fears about incomes, jobs and the wider economy continue.
"With annual sales growth averaging just 0.8 per cent across 2011, compared with 2.3 per cent in 2010, Scottish retailers' contribution to jobs and investment is under threat.
"In this tough climate, it's even more important that the Government minimises the costs it's responsible for, including business rates, retail levies and the burden of regulation."
Online sales
The Scottish government has questioned the figures and said the survey did not give a complete picture of retail sales.
A Scottish government spokesman said: "While there is no question that the trading environment is very challenging, these figures are based on data from Scottish Retail Consortium members and don't include online sales, which is clearly a significant and growing feature of consumer consumption.‪ ‪
"The Scottish government's preferred measure of retail sales, the Retail Sales Index, records turnover from approximately 700 companies across Scotland and shows that the volume of retail sales in Scotland grew by 0.5% over the past year to Q3, while of course we accept that circumstances are difficult.‪"‪