New fund targets investors in Scottish films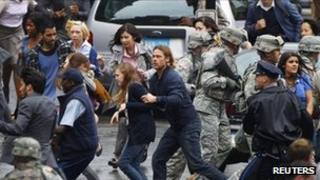 A new fund has been launched to attract investment in films with strong Scottish connections.
The Mackendrick Film Fund was formed following a run of prominent movies shot in Scotland in the past year.
Mackendrick, which has drawn together a range of UK funding experts, will offer a mix of debt and equity finance for domestic and overseas feature films.
It aims to invest in films with a Scottish emphasis, including location, cast or creative talent.
Mackendrick's partners include Aegis Film Fund Ltd and Prescience Film Finance, which collectively have co-funded movies such as multiple Oscar-winning The King's Speech, Conviction, Horrid Henry 3D and The Guard.
Targeting investors in Scotland and beyond, the fund has already attracted a commitment of £500,000 from Creative Scotland. That money will be ring-fenced for projects involving Scottish producers who originate projects north of the border.
The Scottish-based fund is looking to support film projects with a minimum budget of £3m up to a maximum of £20m.
Scottish 'brand'
It aims not only to attract commercial international feature films of quality to Scotland but boost homegrown productions which meet the fund's criteria.
McKendrick is the brainchild of Scottish independent film producer Claire Mundell, who in late 2010 identified a gap in the movie finance market for a Scottish-branded film fund.
The fund is hoping to capitalise on a resurgence in interest in Scotland as a film location, following the shooting of several Hollywood films in the country last year, including World War Z with Brad Pitt and Under the Skin, featuring Scarlett Johansson.
Ms Mundell, founding partner of Mackendrick Capital Partners, said: "We look forward to offering film curious investors the chance to participate in the some fantastic commercial films whilst we also help producers realise their projects.
"We hope in doing so that the Mackendrick Film Fund can play a part in making Scotland an attractive global film destination."
Prescience chairman Peter Nichols said: "The fund will undoubtedly help nurture the development of the film industry in Scotland and add to the Scottish economy by bringing projects to life taking advantage of the technical skills, screen talent and locations there.
"The involvement of Creative Scotland in getting behind the film industry in Scotland is a very positive sign of commitment to strengthening the industry."
Mackendrick is currently working on an investment to produce Born To Be King, a romantic comedy set to star Ewan McGregor and Kate Hudson, with Peter Capaldi as director.
The film is due to start shooting in Scotland and London in June.
Caroline Parkinson, from Creative Scotland, said: "Scotland's film sector is rich in talent and ideas and the Mackendrick Fund will offer crucial financing to an industry that's set to grow in Scotland."