Wiseman agrees to Muller takeover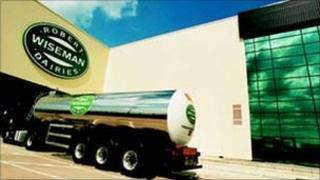 Britain's biggest fresh milk company, Robert Wiseman, has agreed to be taken over by Muller Dairy in a deal worth almost £280m.
Wiseman confirmed last week it was in talks with Muller after a sharp rise in its share price.
The Scottish group operates seven dairies across the UK and counts the The Co-operative Group, Sainsbury's and Tesco among its customers.
Muller is based in Germany and makes yoghurts and potted desserts.
East Kilbride-based Wiseman provides about 30% of the fresh milk consumed in the UK every day.
The recommended cash offer of 390p per share is 60% above the value at close of Robert Wiseman's shares on Thursday - a day before the start of the offer.
The deal means the Wiseman family, which owns 35% of the company, will receive a total of £98m.
Exactly half of that sum will go to executive chairman Robert Wiseman, while his brother Alan will get £35m.
Dairy farmer co-operative First Milk, which owns 10% of Wiseman, will receive £27.9m.
Significant stake
Robert Wiseman said: "The combination of Muller and Wiseman makes strong commercial and strategic sense, creating a leading integrated dairy business in the United Kingdom with complementary positions in the yoghurt and potted desserts market and the fresh milk market.
"Wiseman has its origins as a family business and, since listing in 1994, my family has retained a significant stake in the business. It is heartening to know that the business will become part of another family-owned business in Müller."
Muller is a multi-national producer of dairy products and is based in Bavaria.
It is best known for its range of yoghurts, including the trademark Muller Corner yoghurt. The headquarters of Muller Dairy (UK) Ltd is in Market Drayton in Shropshire.
Heiner Kamps, chief executive of Muller, said: "This is an exciting strategic move by Muller to enter a new market segment in the UK. The combination of these complementary businesses will form a leading dairy player offering a range of exceptional products to our customers across the UK.
"This will create significant opportunities which will benefit suppliers, customers, consumers and employees."
'Guarantees needed'
Michael McCann, Labour MP for East Kilbride, Strathaven and Lesmahagow, said guarantees were needed that the takeover would not lead to job losses.
He added: "I am seeking to meet the company, union and workforce in the coming days to help in any way I can."
Central Scotland Labour MSP Margaret McCulloch, who is based in East Kilbride, said she had written to Robert Wiseman to ask for more information about the proposed takeover.
She added: "The deal is as good as done but I want to make sure that the future of company's workforce is secure."