Survey: Growth in Scottish job vacancies slows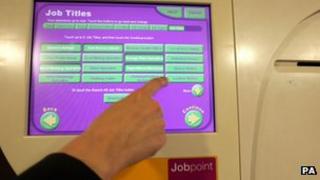 Growth in Scottish job vacancies faltered last month as the labour market continued to lose momentum, a survey has suggested.
The Bank of Scotland Report on Jobs indicated permanent and temporary vacancies rose at their slowest pace for 14 and 22 months respectively.
The survey of recruitment agencies also suggested both permanent and temporary staff placements fell in December.
The drop in permanent placements was the first for 15 months.
Respondents generally linked the falls to weaker growth of demand for staff.
The Bank of Scotland's jobs barometer - a composite indicator of labour market conditions - registered 50.3 in December and signalled only a marginal improvement in the Scottish jobs market.
Down from 51.4 in November, the barometer was at its lowest in 14 months.
Sector increases
Five sectors posted an increase in permanent job vacancies, with IT and computing leading the way.
The number of permanent staff placements only increased in Edinburgh, while higher temp staff billings were only reported by Aberdeen-based recruitment agencies.
Respondents reported temporary job vacancy growth in all sectors except for secretarial and clerical.
Labour market conditions across the UK as a whole deteriorated in December, with the rate of decline the highest since September 2009.
Bank of Scotland chief economist Donald MacRae said the jobs market was showing the negative effects of the slowdown in the Scottish economy.
He added: "Growth in the number of job vacancies slowed while the number of people appointed to jobs fell for the first time in 15 months.
"The Scottish economy is struggling to maintain growth momentum in the face of the global slowdown."
A Scottish Government spokesman said: "This survey suggests that there has been a marginal improvement in Scottish labour market conditions in December."
He added that the Scottish Government was doing everything in its powers to strengthen the recovery despite a cut of more than a third in its capital budget.