Scottish newspaper sales plunge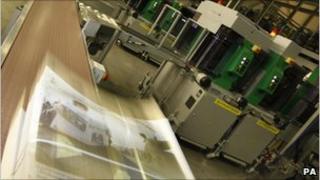 The Herald and Sunday Herald led sharp falls in Scottish newspaper circulation during 2011, according to new figures.
The only Scottish titles to see rising sales were the Sunday titles that picked up from the closure of the News of the World last summer.
Full-year Audit Bureau of Circulation figures showed The Herald's sales fell 11.6% in the second half of the year, compared with the same period in 2010.
Last month, it sold an average of 46,400 copies per day.
The Sunday Herald, sister paper of the Glasgow-based daily, faced the worst figures of last year after it re-launched in a magazine format last January. The second half of last year was 28% below the figure for 2010, with an average of 30,100 weekly sales.
Rival paper Scotland on Sunday was down 9.6% to 49,700, while The Scotsman was down 8.7% to an average daily sale of 39,600.
At the 'popular' end of the Sunday market, the closure of the News of the World boosted sales of the Daily Star Sunday by 94% across Britain, with the Sunday Mirror up 62%.
But the Glasgow-based Sunday Mail, Scotland's biggest weekly, rose less than 4% in the year that its main rival closed.
The Sunday Post fell slightly during the year, with its Scottish sales falling below 225,000.
Best performer
The best performing daily paper in the Scottish market was the Daily Mail, with its December 2011 sales higher than the year before, at 107,400. However, its average over the second half of the year was down 4.8%, from 114,700 to 109,100.
The Sunday Times saw its Scottish sales fall significantly, down from 60,500 to 54,100 - a drop of 10.6%.
The biggest selling daily in Scotland remained the Scottish Sun, which sold an average of 313,300 in the second half of last year - down 6.4%. Its main red-top rival, the Daily Record, saw Scottish sales down by 7.2% to a daily average of 270,200.
Parallel circulation figures for the Press and Journal, the Dundee Courier and local titles will be published next month.