Muller Dairy in Robert Wiseman takeover talks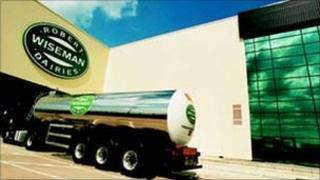 Britain's biggest fresh milk company, Robert Wiseman, has confirmed it is subject to a possible takeover bid by Muller Dairy.
The East Kilbride firm said it was in discussions with Muller over a possible cash offer.
The announcement followed a sharp rise in Wiseman's share price, which climbed more than 21% by lunchtime.
Muller Dairy (UK) Ltd is a wholly-owned subsidiary of Muller, which is based in Germany.
In a stock market statement, Wiseman said it had noted the recent rise in its share price.
It added there could be no certainty that any offer would be made for the company.
Muller has until 10 February to confirm its intentions regarding an offer.
Robert Wiseman was established in 1947 and now provides about 30% of the fresh milk consumed in the UK every day.
Muller is a multinational producer of dairy products and is based in Bavaria.
It is best known for its range of yogurts, including the trademark Muller Corner yogurt. The headquarters of Muller Dairy (UK) Ltd is in Market Drayton in Shropshire.