Iberdrola bid for French renewable energy projects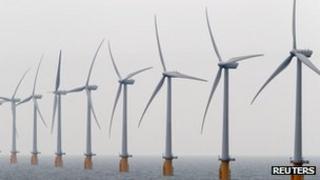 Glasgow-based offshore wind experts are bidding to break into the fast-growing market for French renewable energy.
Scottish Power parent company Iberdrola, which manages its offshore wind projects from a new centre in Scotland, is part of a consortium bidding to provide nearly 1 gigawatt of wind capacity in French waters.
The projects involve areas off the Brittany and Atlantic coast.
The French government plans to install up to 3 gigawatts of power.
Each gigawatt is reckoned to have the capacity to power up to 1.2 million homes.
One of the wind farms would be located in the Saint-Brieuc Bay off Britanny, while the other would be off the Saint-Nazaire coast in Loire Atlantique.
Scottish engineers and project managers have teamed up with renewable energy specialist Eole Res, turbine manufacturer Areva, engineering and construction company Technip and developer Neoen Marine.
Iberdrola's base in Glasgow is overseeing or bidding for work in Germany, England and Scotland, with a total capacity of 10 gigawatts. The French bid would push that up to 11 gigawatts.
'Huge effort'
Keith Anderson, chief corporate officer of Scottish Power and head Iberdrola's offshore power division, said: "Our consortium has put in a huge amount of effort to put together two very detailed bids in response to the French government's tender.
"Engineers and project managers in our headquarters in Glasgow will have a key role in supporting the projects, and will oversee a consortium that has worldwide experience of developing major renewable energy projects and a wealth of technological expertise."
French offshore wind plans were announced last June. The winning bids are to be announced later this year, with the first wind farms scheduled for operation from 2015.