Stores claim tax will hit profits by 10%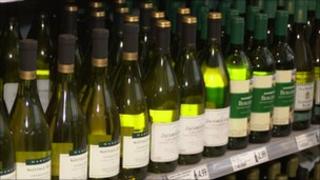 Retail groups claim a new health levy due to come into force later this year will hit store profits by up to 10%.
A report by the Centre for Economics and Business Research (CEBR) argues that the tax will have a bigger impact on retailers than claimed by the Scottish government.
The report, which was commissioned by Asda, has estimated that 240 stores will be hit by the levy.
The Scottish government said its plans would affect a small number of stores.
The tax imposed on the larger retailers selling alcohol and tobacco would be raised via a business rates supplement from April.
Ministers expect to raise £110m from the supplement over the next four years.
However, the CEBR report has claimed the tax is likely to have a negative impact on the Scottish economy, deterring job creation and preventing new store openings.
A Scottish government spokesperson said: "The public health supplement will affect only a small number of the very largest retailers in Scotland - approximately 240 stores, which represents 0.1% of business premises in Scotland.
"We have consulted with businesses and retailers on our plans as part of the draft Budget and this will continue as we take plans forward.
"It is misleading to speculate how our plans, which will be used towards preventative spend measures, will affect retailers. We will provide further details of the Public Health levy when we lay legislation in the coming weeks"
Scottish Conservative finance spokesman Gavin Brown said: "This report is a kick in the teeth for the Scottish government and highlights the fact that the retail levy is an 'economically irrational tool'.
"It is disappointing that the Scottish government has failed to carry out their own impact assessment and that we have had to rely on others to do so."
David Lonsdale, assistant director of business organisation CBI Scotland, said: "Larger retailers often have a choice of locations in the UK or abroad for their investments and rigorously evaluate post-tax returns on their investment options.
"This £110m tax will make it more expensive for retailers to operate in Scotland and could put at risk much needed new investment and jobs.
"The introduction of this levy is a decisive departure away from the uniform business rate that business fought so long and hard for, and opens the door to smaller retailers and indeed other sectors being similarly targeted in future."