Scotland set for renewable energy deal in Abu Dhabi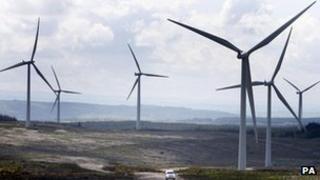 Scotland is poised to sign a renewable energy technology research deal in the Middle East.
First Minister Alex Salmond is to travel to Abu Dhabi this week to sign a "ground-breaking" contract with renewables firm Masdar.
Under the agreement, the Energy Technology Partnership - a union of 12 Scottish universities - will develop green energy products with Masdar.
They aim to produce new wind, solar, wave and tidal energy technology.
Mr Salmond said: "It is clear that the work Masdar is taking forward on leading us to a low carbon society is in perfect synchronisation with the work we are doing here in Scotland.
"This is the first agreement of its kind between Masdar and an individual nation and will work towards developing further university research into renewable energy.
"This landmark deal rightly puts Scotland firmly at the forefront of the green energy revolution and I look forward to this relationship between Scotland and Masdar growing and delivering for all our global futures."
During his two-day visit, the first minister is also due to address an audience of world leaders when he attends the World Future Energy Summit as a guest of Masdar.
Other speakers include UN Secretary General Ban Ki-Moon and Premier Wen Jiabao of China.
Mr Salmond's trip to Abu Dhabi follows a five-day visit to the Middle East in October, when he promoted Scottish business and educational links.
The Scottish government said on Sunday it expected that trip to result in further deals, including developments on additional direct air routes by Middle Eastern airlines into and out of Scotland.
It added an announcement on talks between the Scottish government and a prominent air carrier was expected "imminently".