Fall in new car sales in Scotland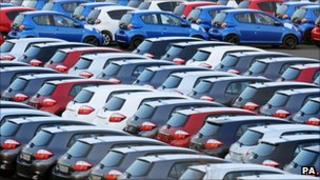 New car registrations in Scotland fell by nearly 5% last year to just under 167,000, according to motor trade figures.
The 4.85% fall was greater than the UK as a whole, which saw registrations drop 4.4% to 1.94 million.
The Scottish figures for December showed a year-on-year fall of 3.6% to 9,489 units - slightly ahead of the UK, which recorded a 3.7% drop.
The statistics came from the Society of Motor Manufacturers and Traders (SMMT).
The Scottish Motor Trade Association (SMTA) said it was not too disappointed in the figures, given the current economic climate.
Chief executive Douglas Robertson said: "People are hanging on to their cars and not trading in after three years - they are hanging on for another six or 12 months - and it is the same with business and fleet cars."
New models
Mr Robertson predicted 2012 would be another difficult year but said there would be a significant number of new and updated models becoming available.
He continued: "This, together with the improved fuel efficiency that these new models will offer, should help to encourage consumers into SMTA members' showrooms.
"We also anticipate government action to assist consumers with financing facilities during the forthcoming year.
"Together these factors justify the confidence we have that 2012 will see an improvement on 2011."
The top selling car in Scotland last year was the Vauxhall Corsa, followed by the Ford Fiesta and the Ford Focus.
The SMMT said the overall UK fall in demand in 2011 was not quite as sharp as expected.
The fall in demand for new cars, which continued in December with a 3.7% drop compared with a year ago, contrasted with a strong rise in UK car production in the last six months.
The fall was exaggerated by a boost to 2010 car registrations from the government's car scrappage scheme, which subsidised new car purchases.