More than 20,000 Scots 'will go bust' in 2012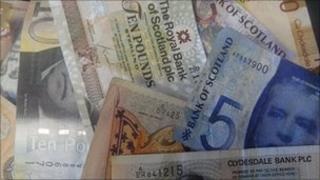 Increasing numbers of Scots will go bust this year as the economy falters and unemployment rises, according to a new report.
Accountancy firm PKF has predicted more than 20,000 people will be declared insolvent in 2012.
It based its expectations on rising bankruptcy and trust deed figures over the first three quarters of 2011.
The report claimed even relatively affluent Scots could find themselves unable to cope with the downturn.
Its predictions for this year were based on trends in the first three quarters of 2011 in terms of sequestration - the Scottish term for bankruptcy - and the increasing use of the Protected Trust Deed (PTD).
The most recent figures released by Accountant in Bankruptcy showed a total of 5,378 Scots went bust in the third quarter - 210 more than the same period in 2010.
Economic fluctuations
Bryan Jackson, PKF corporate recovery partner, said: "There was a widespread assumption that in 2011 the economy would start to show signs of recovery and that personal insolvencies would stabilise, albeit at an extremely high level.
"However, the fluctuations in the economy, the difficulties in the eurozone, and the clear impact of public sector cuts is increasing the number of Scots facing financial difficulties."
He added: "The dramatic rise in the number of more affluent Scots being made bankrupt is a further sign that the after-effects of the recession are spreading among all sectors of society, with the result that I believe all personal insolvencies will continue to rise and remain at high levels for several years to come."
Insolvency trade body R3 said many people were reaching the stage where they could not meet all of their payments.
R3 Scottish council member John Hall added: "Many Scots are in a situation where they simply cannot survive any longer.
"They are what we call 'zombie' debtors who can only pay the interest on their debts each month. Therefore any slight change in their circumstances means they are likely to be plunged into insolvency."
Meanwhile, PKF also predicted an average of 25 Scots firms a week would go bust this year.
It said it expected about 1,300 firms to fall as the economy continued to plague the Scottish business sector.
The latest business insolvency figures for the third quarter of 2011 saw the number of companies becoming insolvent rise by 46.2% compared to the same quarter of 2010.
The total of 361 companies was the largest figure recorded for a single quarter.
Mr Jackson said: "These figures tell their own story and indicate that whole swathes of Scottish business are being adversely affected by the continued economic downturn.
"Whilst we are not seeing many large businesses go under we are seeing dozens of smaller businesses collapse."