Harris Tweed weaver from Luskentyre appointed MBE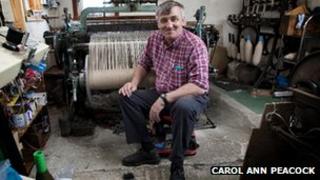 A weaver who raised the profile of Harris Tweed by selling his designs to one of the world's biggest sportswear firms has been named in the New Year Honours List.
Donald John MacKay, from Luskentyre on the Isle of Harris, has been appointed MBE for his services to the industry.
Seven years ago, Nike chose one of his designs for a run of limited edition trainers.
The deal was seen as a major boost to the industry when it was at a low ebb.
Nike had been looking for a way to update a trainer called The Terminator, a basketball shoe from the 1980s, when they originally approached Mr MacKay.
After seeing test swatches, Nike initially ordered nearly 10,000 metres of cloth.
Weavers throughout the Outer Hebrides were called into action to meet the demand, because Mr MacKay could only produce so much in the loom shed behind his house.
'National treasure'
Nike has since placed further orders and Mr MacKay was working with the sports giant as recently as last year.
Carol Ann Peacock, a professional photographer who has worked closely with the weaving industry, said: "He is a living national treasure - really the best weaver there is.
"The Harris Tweed industry has had its peaks and troughs for decades, but I think the Nike contract was pivotal in bringing tweed to a new market by showing it was modern and trendy."
Mr MacKay, 59, who has been a weaver for more than 40 years, said: "It's been a lifelong career. I'm certainly honoured to be recognised in this way, it's an absolute privilege.
"It's been a bit of a shock. I never thought I'd get an award like this, but it will be received with honour."
For the past 21 years, he and his wife Maureen have been independently producing the tweed, trading under the name Luskentyre Harris Tweed.
They are currently working on an order for Clarks shoes.