Scottish charity wins £3.5m Lloyds payout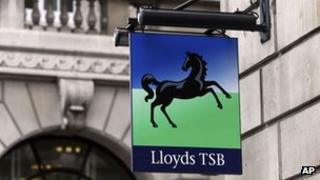 A Scottish charity has won a £3.5m payout from its banking benefactor, following a long-running dispute.
Lloyds TSB Foundation for Scotland won the award after raising an action against Lloyds Banking Group at the Court of Session in Edinburgh.
The charity had claimed it should receive the money under an agreement entitling it to a share of profits.
The agreement followed Lloyds' acquisition of Halifax Bank of Scotland (HBOS) in 2009.
A judge - Lord Glennie - ruled against the charitable foundation earlier this year, but three appeal judges overturned his decision and ordered Lloyds to pay it £3.5m.
The charity had claimed it was entitled to a percentage of pre-tax profits following the acquisition of HBOS, while the banking group maintained it should be restricted to a minimum sum, under a covenant between the parties, of £38,920.
Negative goodwill
Lord Glennie had rejected the charity's legal move after finding the expression of "group profit before taxation" used in the agreement was ambiguous.
He also found it did not include the figure for negative goodwill - which arises when the price paid in a deal is less than the fair value of the assets - resulting from the HBOS acquisition.
But the charity appealed against his decision and achieved victory before the Lord President, Lord Hamilton, sitting with Lord Carloway and Lord Kingarth.
Lord Hamilton said Lord Glennie had been persuaded that the parties to the funding agreement did not intend it to be affected "in a dramatic way" by new changes in accountancy practice which were brought in before the HBOS acquisition.
But the Lord President said in a judgement: "The calculation of the payment was not affected 'in a dramatic way' merely by the new accountancy treatment of negative goodwill.
"The amount of that goodwill in any accounting period might be nil or some relatively small amount.
"It was the size of the goodwill arising from the acquisition of HBOS in 2009 which might be regarded as 'dramatic'. But the particular outcome on one year cannot affect the meaning of the parties' agreement."
The appeal judges ordered Lloyds Banking Group to pay out £3.5m, with a further hearing scheduled on interest and expenses.
In February last year, the group announced it planned to terminate its covenant with Lloyds TSB Foundation for Scotland, which has paid out more than £85m to Scottish charities over the last 25 years.