Shops in Scotland report late Christmas rush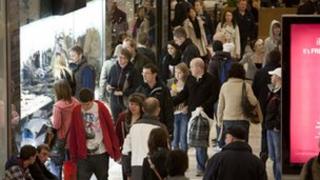 Shopping centres across Scotland reported a last-minute rush through their doors as the public completed their Christmas purchases.
Braehead in Glasgow said its car parks filled up quickly after it opened for business at 09:00.
Union Square in Aberdeen reported being "absolutely packed" with shoppers.
But other shopping centres, including several in Glasgow, said business was a little quieter on the back of a good week for sales.
Glasgow's Braehead Shopping Centre reported "a lot more guys" rushing around their shops in the morning.
General manager Peter Beagley said: "No doubt they'll promise themselves to do next year's Christmas shopping a lot earlier and not leave it till the last minute - just like they promised themselves last year."
Dundee's Wellgate Centre also reported brisk trade throughout the day.
A spokeswoman said: "We have exceeded a good Saturday. There was a queue to buy perfume when we opened this morning."
Union Square in Aberdeen, which houses more than 60 shops, said many people were queuing from early morning to get into the centre.
'Record' Friday
General manager Ryan Manson said: "This week has seen over 300,000 people through the doors of the centre, which is a 14% increase on the same period last week and a 15% increase on the same period last year.
"Over 60,000 visited the centre yesterday which is the busiest Friday on record."
Glasgow Fort, next to the M8 motorway at Easterhouse, said it was "a little bit quieter" after a bumper shopping week.
Manager Phil Goodman said: "Although it is quieter today, I am confident this week will prove to have been a record week for us.
"This is probably due to a number of factors, including the recent calm weather and the fact that Christmas has fallen on a Sunday so many people did their shopping earlier in the week."
Silverburn Shopping Centre in Glasgow also saw fewer visitors than Saturday, when 72,000 were estimated to have gone through its doors.
A spokesman said: "We have had about 52,000 visitors so far. We feel people are spending a lot of money and will be continuing to do so until closing time today."