Scottish Power owner agrees turbine deal with Gamesa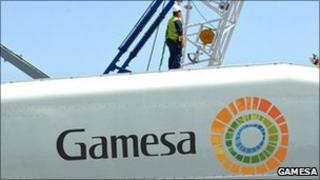 The Spanish owner of Scottish Power, Iberdrola, has signed a deal with Gamesa, a major manufacturer for renewable energy, to provide at least half of the power utility's wind turbines over the next decade.
The two Spanish companies already had close links, having signed a supply agreement three years ago.
The new deal means Gamesa has a guarantee of work which will help its decisions to invest in new capacity.
The manufacturer is behind schedule in announcing a decision on whether to locate a new factory in Leith docks area of Edinburgh or in Hartlepool, in north-east England.
It had been considering Dundee but recently ruled it out of its short list.
Iberdrola says it will buy at least half of its wind turbines from Gamesa between 2013 and 2022, at least up to 3,800 megawatts of capacity.
The two companies are also to forge closer ties in maintenance services.
And while that is already agreed for onshore turbines, the intention is to work together on offshore turbines, which are the focus of the next UK investment decision.
Jorge Calvet, chairman and chief executive of Gamesa, said: "The agreement establishes a new foundation for cooperation in response to the economic and industry environment of recent years, affords us stability and expands the framework cooperation agreement to Gamesa's key areas of growth for coming years."