Statoil to step up safety efforts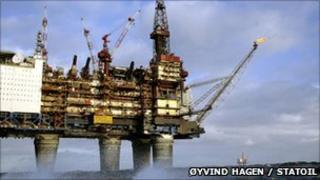 A major North Sea oil and gas producer has announced a shake-up after a 2010 platform incident was found to have avoided disaster only "by chance".
Statoil, Norway's state-owned oil company, faced a serious incident on its Gullfaks C platform in Norwegian waters near the UK boundary.
It occurred soon after the Deepwater Horizon disaster in the Gulf of Mexico.
The firm was strongly criticised by the country's offshore energy regulator, which ordered it to improve safety.
In a review of the incident, the Petroleum Safety Authority (PSA) Norway said there were "serious deficiencies" in the way Statoil had planned its drilling of the well and also in management checks on the work.
It said the incident had been "very serious", and involved the lengthy loss of one of the barriers to a well getting out of control.
"Only chance averted a sub-surface blowout and/or explosion, and prevented the incident from developing into a major incident," according to the PSA report.
It highlighted another gas well blow-out in 2004 for similar reasons, but from which the lessons did not appear to have been learned.
Culture change
The company responded to the regulator's report, with a promise to cutback on management layers and bureaucracy, giving managers more authority for decision-making.
It said it was challenging its corporate culture to make it more "reflective", and was working to learn more from incidents in drilling and production.
Employee unions have been closely involved in the change, and said there was "a long-term change of direction" in health and safety at Statoil.
Tove Stuhr Sjoblom, executive vice-president for Statoil, said: "We've learned a lot after the well control incident on Gullfaks in 2010. The measures we're adopting will strengthen us as an organisation".