Scottish jobs market 'loses momentum'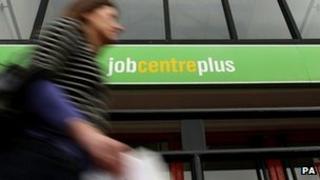 The Scottish labour market lost momentum in November, according to a survey of recruitment agencies.
The latest Bank of Scotland Report on Jobs indicated a further modest improvement in job market conditions.
But the survey suggested permanent placements rose at their slowest pace for 14 months while temp staff billings fell for the first time in 27 months.
The bank's jobs barometer, which gives a snapshot of labour market conditions, was at its lowest level for a year.
Edinburgh-based recruitment agencies reported the strongest increase in permanent staff placements in November, while the fastest rise in temp staff billings was registered in Aberdeen.
Permanent staff salaries rose further, but pay inflation was only marginal and at the slowest pace so far in 2011.
Hotel and catering and secretarial and clerical were the only two sectors which did not record higher permanent vacancies last month.
'Weaker trends'
Bank of Scotland chief economist Donald MacRae said: "Although the Scottish labour market improved in November, the barometer showed its lowest figure in a year.
"Weaker trends in appointments to jobs coupled with a slowing in the numbers of vacancies for both permanent and temporary positions show the effects of the global slowdown percolating through to the Scottish economy."
The Bank of Scotland report is compiled by Markit and is based on a monthly survey of more than 100 recruitment and employment consultants.
Finance Secretary John Swinney said: "This survey shows the 13th consecutive month of improvement in labour market conditions in Scotland.
"And last week's labour market figures showed that in the face of severe cuts from Westminster, we still have a situation of higher employment in Scotland compared to the UK as a whole, lower economic inactivity, and lower unemployment compared to most of the other nations and regions of the UK.
"However the number of people out of work has increased over the quarter and the Office of Budget Responsibility has reported that the UK economy is already contracting in the final quarter of this year.
"This is why the Scottish Government is calling for an urgent jobs summit, comprised of the four finance ministers of the Westminster government and the devolved administrations, to agree a programme of immediate employment creation - a 'Plan MacB' - with a focus on increased infrastructure investment."