Aberdeen firm EnerMech forecasts 400 new jobs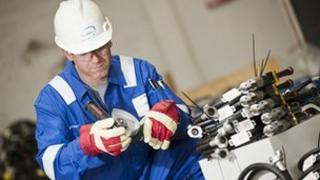 Mechanical engineering services firm EnerMech expects to take on 400 more staff in the next year after forecasting a doubling of sales.
The Aberdeen-based company said it expected turnover to top £103m, compared to £49.5m last year.
The rise follows a £60m investment programme in facilities, equipment and acquisitions since 2008.
It has now secured a further £20m to support more investment in equipment and facilities.
Turnover next year is expected to rise to £142m, with profits expected to double to £20m.
International footprint
EnerMech managing director Doug Duguid said the company had established an international footprint which was "now beginning to deliver significant growth and profitability".
He continued: "We are pleased with the progress we have made in our first three years and our continued investment in the business, and the success of our strategy to provide integrated mechanical service solutions to our customers, has secured us a number of long-term contracts across our 18 international bases.
"This has created over 580 new positions this year alone, 340 of them in the UK."
He added: "We now have over 1,000 staff globally and expect that to grow to at least 1,400 in the next year."
Specialist services
EnerMech, which was formed in April 2008, specialises in the supply, maintenance and engineering of cranes, lifting, valves and hydraulic equipment, equipment rental and the provision of training and specialist personnel to the energy industry.
The firm has a significant presence in Norway, following the acquisition of Bjorge ASA's crane division in October 2008.
In April 2009, EnerMech extended its presence in the Middle East with the acquisition of United Arab Emirates free zone companies Pavitt Energy and Scotia Oilfield Trading.
Investment totalling £5.1m has been made at its bases in Abu Dhabi and Doha, and plans have been drawn up to build a new £3m facility in Jebil Ali, Dubai, which will be ready in 2013.