Fish rules fine hike proposed in consultation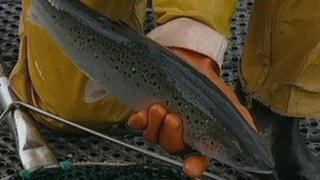 Fines of up to £10,000 could be imposed on businesses which flout marine and aquaculture regulations, under plans put out to consultation.
The Scottish government has proposed a fivefold increase in the current maximum penalty of £2,000 for breaching rules.
The move is designed in part to protect fish stocks.
Ministers believe the current penalty may not be a sufficient deterrent for more serious offences.
They said this was particularly the case for large businesses where the benefits of non-compliance "may significantly outweigh the potential penalty".
The government is also consulting on plans to widen the scope of offences for which fixed-penalty notices can be issued.
The Aquaculture and Fisheries Bill consultation document includes a plan to place voluntary fish farm management agreements, which encourage co-operation and good practice in areas such as managing parasites, on a statutory basis.
Sanctions
It outlines sanctions for operators who fail to sign up or who breach the regulations by withholding data or providing false or misleading information on surveillance of fish health, biosecurity, mortality and diseases.
Operators would also be required to comply with an annual survey of salmon and sea trout catches and tag wild Atlantic salmon and sea trout with the name and address of the sender.
Environment Minister Stewart Stevenson, who launched the consultation, said: "Scotland is home to valuable aquaculture and freshwater fisheries sectors that make important economic contributions, particularly in remote, rural communities.
"We need to ensure that both these sectors and, in particular, farmed salmon and wild salmon interests can continue to develop and co-exist harmoniously."
He added: "Last year increased farmed salmon production was worth around £540m, while 2010 figures for rod catches of wild salmon were the highest on record.
"This demonstrates that both sectors can be supported to grow and thrive together.
"But we must not be complacent. That's why we're consulting on possible changes and legislation to ensure continued and improved high standards of management in both sectors."
The consultation will run until 2 March, 2012.