HMRC 'getting tougher' on unpaid tax bills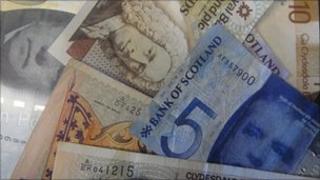 Tax officials are increasingly using legal powers to force the settlement of unpaid tax bills in Scotland, according to law firm McGrigors.
Information obtained by McGrigors under the Freedom of Information Act showed the number of petitions for bankruptcy filed by HMRC in Scotland leapt by 97% over a three-year period.
The number of winding up orders issued against businesses also jumped by 75%.
The use of similar powers in England and Wales fell over the same period.
Pamela Muir, from McGrigors, said the figures showed a "clear change in emphasis" at HMRC.
She continued: "We are definitely seeing a hardening in attitudes at HMRC.
"During the downturn there was a high level of support for business, but the taxman seems to be running out of patience with those who are unable or unwilling to settle their unpaid tax bills."
Ms Muir said the contrasting trends in England and Scotland could probably be explained by a greater level of leniency for businesses north of the border during the downturn.
'No second chances'
She added: "In many cases businesses have been given time to trade their way out of trouble, but they are now hearing the sound of chickens coming home to roost.
"The message from HMRC is clear - if you have been given time to settle your tax affairs but have been unable or unwilling to do so, there will be no second chances."
However, Ms Muir also said petitions were increasingly being used as a "tactic" to bring debtors to the negotiating table rather than force them to the wall.