New Asia food and drink export strategy unveiled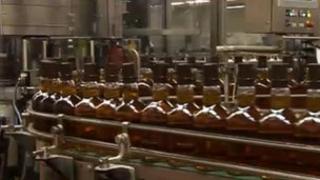 The Scottish government has unveiled a new six-year food and drink export strategy for the Asia Pacific region.
It focuses on key areas where Scotland already has a global competitive advantage such as whisky, seafood and red meat.
The strategy also looks to expand in other fields such as dairy, fruit and vegetables, bakery and premium grocery.
The drive was announced by First Minister Alex Salmond during a visit to China.
The Food and Drink Strategy for Asia was developed by Scottish Development International (SDI) in consultation with key stakeholder organisations, including the Scottish Salmon Producers' Organisation.
It aims to help provide Scottish food and drink companies with the resources, knowledge and networks to develop significant sales in the Asia Pacific region.
The new strategy was revealed as official figures showed direct exports of whisky to China and Hong Kong reached £63.6m in September - up 13% on the same period last year.
Chinese deals
The rise follows a deal reached with China last year to grant new legal protection for any product labelled as 'Scotch Whisky'.
Scottish salmon producers, meanwhile, have netted almost £20m in exports of fresh Scottish salmon to China in just nine months since a Scottish government-brokered agreement enabled direct exports to the country.
Mr Salmond, who was in Hong Kong with Scottish producers to promote Scottish food and drink, said: "Growing and exporting firms make a significant contribution to Scotland's economy.
"That is why the Scottish government is committed to investing in a supportive business environment, focusing our efforts on growth markets, with an ambitious target to deliver a 50% increase in exports by 2017."
The value of direct fresh Scottish salmon exports to Far East markets, including China, Thailand, Malaysia, Singapore, Vietnam, Japan, Taiwan and Hong Kong, increased from £3.1m between January and September 2010 to more than £20m for the same period in 2011.
Scotch whisky exports to Asia for the period January to September 2011 were worth £659.6m - up from £514.7m during the same period last year.
'Increased potential'
Scottish Salmon Producers' Organisation chief executive Scott Lansburgh said: "Opening the Chinese market has boosted the export value to the Far East by 500% and increased the potential to supply a wider range of discerning consumers.
"Salmon is a growth sector of our economy and export potential of this kind to fast growing markets maximises value, provides greater long-term resilience and helps to maintain and create high quality and sustainable jobs in Scotland."
A range of support will be available over the next six years as part of the strategy to help companies target the Asian market, including workshops, Scotland Food and Drink pavilions at key Asian trade shows and missions.