Cairn Energy shareholders to get £2.2bn pay-out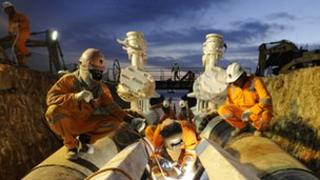 Edinburgh-based oil explorer Cairn Energy is to distribute more than £2.2bn to its shareholders.
The cash pay-out follows the sale of a controlling stake in the company's Indian subsidiary for about £3.5bn.
That sale in two tranches - to metals company Vedanta - was announced in August last year but it has taken until this week to receive final clearance from the Indian government.
It leaves Cairn Energy holding 22% of Cairn India shares.
The company intends to retain its stake.
The pay-out is being denominated in US dollars, as with most oil companies. The first tranche of sale, for 10% of the Cairn India subsidiary, was for $1.4bn earlier this year.
The second tranche of the company includes 30% of the shares, and hands Vedanta the controlling stake. It has raised $4.1bn for the parent company in Scotland.
The group's biggest shareholders are investment funds. Blackrock had nearly 10% and HSBC Global Asset Management had nearly 9% on 11 November this year.
Edinburgh-based Walter Scott and Partners and Scottish Widows each held more than 4% of the shareholding.
The pay-out is being designed to give shareholders a choice as to when, and in what form, the cash is received.
'Landmark' deal
Cairn Energy chief executive Simon Thomson commented: "This transaction represents a major milestone in Cairn's history. It crystallises the very significant value creation that we have delivered from our Indian business.
"Our remaining 22% shareholding in Cairn India, retained cash and balance sheet strength provide financial flexibility and an excellent platform for future growth opportunities."
Anil Agarwal, chairman of Vedanta - which operates mainly in India with a listing on the London Stock Exchange - said: "The acquisition is a landmark event for the global natural resources sector and for India, which is looking at sustainable energy sources to fuel its growing economy.
"We firmly believe that Cairn India has the potential to double its current capacity and we will work together to achieve it."