Irn Bru maker AG Barr sees sales increase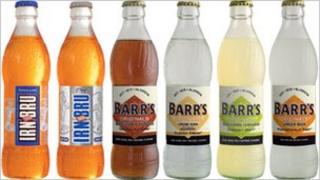 The maker of Irn Bru has announced a 5.6% increase in sales in its latest trading update.
The Cumbernauld-based company, AG Barr, said the increase on the same period last year reflected a robust soft drinks market in which its core brands performed well.
Year to date revenue as at 3 December increased by 4.6% building on 11.5% growth in 2010.
The company said it had performed in line with its expectations to date.
Earlier this year AG Barr had to outsource work after a delay in the supply of equipment to complete a major investment project.
The company has spent more than £10m in new capacity at the site during the past year.
As well as Irn Bru, the firm makes Orangina, Tizer, Rubicon and Ka drinks.