Oil discovery for Faroe Petroleum at Butch field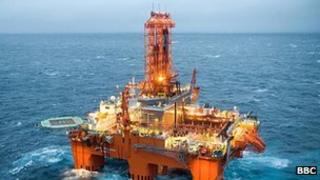 Oil and gas explorer Faroe Petroleum has completed a successful initial side-track well on the Butch oil discovery in the Norwegian North Sea.
In October, Faroe reported that the Butch exploration well, where it has a 15% interest, had found oil.
A side-track is where the driller re-enters the well to achieve production from an alternate zone.
Centrica, the operator, has estimated a find equivalent to between 30 and 60 million barrels of oil.
Drilling of a second side-track well is due to begin in the coming days.
Graham Stewart, CEO of Faroe Petroleum, said: "We are very pleased to announce the results of this successful initial side-track well on the Butch discovery, which proves further resource potential in the discovery."
He said the company's "very active" exploration drilling programme included four Norwegian sites and one at North Uist.