Herald titles to charge online readers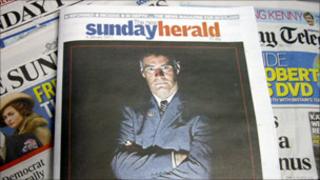 Two newspapers, the Herald and the Sunday Herald, have become the first in Scotland to charge regular readers of their online pages.
People will still be able to read a limited number of articles free but will be asked to pay a subscription if they want to read more than 10 pieces in a four-week period.
The charge is £1 for the first four weeks and then £2.99 after that.
The group said it was following the lead set by other newspapers.
The Times and Sunday Times were among the first UK national newspapers to charge for online content.
Johnston Press carried out a trial of subscription charges for some of its local titles but abandoned them after the online editions failed to attract readers.
Group digital director Mark Smith said: "Our research shows that most of our users are happy to pay for something they value. It's our job to make sure we provide that value.
"We also believe it's important that quality journalism by Scots and for Scots exists and prospers in the digital environment, perhaps never more so with Scotland facing up to real economic and social challenges, and of course a huge collective decision about independence."